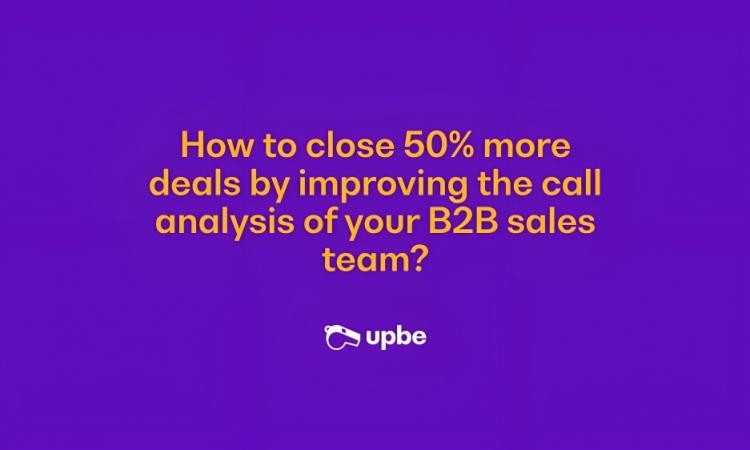 Do you sell B2B software? How do you analyze and learn how to improve prospecting and sales calls? In a context in which more and more companies are selling software to other companies, we know that Upbe can bring its intelligence to B2B technology companies that are in a sales expansion phase and need to quickly analyze their entire business process. Upbe is intelligence to turn your SDRs or sales representatives and Account Executives into extraordinary sales teams.
Did you know that calls are the richest and most qualitative source of data on customers? And did you know that 71% of customer interactions are by phone and that less than 0.5% are manually audited? Upbe is a conversational intelligence technology based on Machine Learning and NLP that identifies elements and patterns in the context of conversations with potential customers.
Thanks to this, Upbe analyzes 100% of the calls, faster, cheaper and with greater precision than any technology or human process. Upbe transforms this information into data that will help you improve decision-making and generate value for your business thanks to a better customer experience.
How can Sales Intelligence help you improve your sales?
Ubpe analyzes the calls of your sales team through AI revealing the keys to improve their performance. How do people who sell B2B software develop the pitch? How do you handle rebates to customer objections? Do they correctly qualify prospects? Upbe understands the context of the calls, what our sales team and potential clients are saying, why they are saying it and what is behind it. By understanding this and proposing improvement actions in your team, you will achieve:
Close more demos and client meetings
With Upbe you analyze and increase the performance of your SDRs and AEs by up to 50%. You will be able to understand how they develop the commercial discourse and how they sell the product, which will help them improve to close more demos or meetings with potential clients.
Accelerate the business cycle
With Upbe you can speed up the pace of your B2B software sales team and shorten the business cycle. For example, reducing the step from prospecting calls to Demo and from this to successive steps. By reducing bad sales practices and scaling up good ones, you can speed up your business pace. By analyzing these types of calls, you will also be able to ensure that your new SDRs are in a position to sell your product much sooner.
Sell better
With Upbe you can find the right way to tell your product to your potential customers. What is your ideal message? With what discourse do your customers perceive the value of your product? With Upbe you will be able to analyze the arguments that help you close more product demos or meetings and move forward in the business cycle.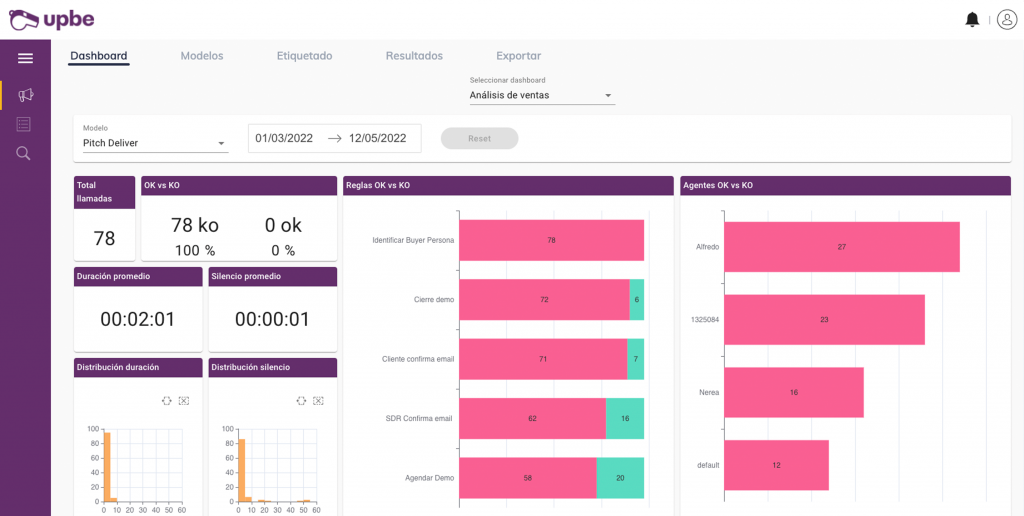 How does Upbe Sales Intelligence work?
Upbe is integrated with dialers (Aircall, for example) and CRM tools (HubSpot). Thanks to its own transcription engine (ASR) in Spanish, it is the most effective in this language, with 63% greater accuracy in transcription than competitors thanks to its unique NLP models on the market.
Once the integration is done, the next step is to establish the business rules and perform the contextual identification and labeling. We tell Upbe what to find in a call. From there, it is capable of transmitting all the information you want to know with dashboards that include the fundamental indicators that you consider important for your sales process (sales pitch, closing of demos, etc.).
Case study
Imagine, for example, that we want to analyze discovery or prospecting calls: we have a team of SDRs or salespeople who are making cold calls (or warm calls, in the case of inbound) and we have to understand the performance of those salespeople who have to follow a commercial pitch and present a product and close, as an ideal objective, a Demo.
If we have our calls integrated into our platform, or because we are integrated with applications such as Aircall or Ringover or video call platforms such as Google Meet, Microsoft Teams or Zoom, we can obtain the input for that analysis, that is, the audio of those calls or video calls that Upbe transcribes with our transcription engine.
After entering that input, we configure Upbe to tell it what to find in those calls. And what we want to measure. We facilitate this task by making available more than 100 global generic items of situations that are common to several companies in the context of B2B sales, such as:
Verification that an SDR is confirming an email
Identifying when a prospect indicates it's a bad time to talk
Detection of previous calls (redials)
Listening for the mention of previously shared emails
Determining times and days of the week for a meeting
Identification of certain objections by the client
And, of course, we can also tell you to find things that are particular to my business context. Let's take an example: a company that sells a solution for educational institutions:
educational platform
for children from 3 to 12 years old
to use from home
Or, for example, we tell you to find questions or statements made by the SDR to qualify, such as when:
ask for the number of students in the center
or if they have special education children
This allows us to understand, as we said above, all the necessary detail in the conversational data (which comes out of the transcripts of the calls), to develop work plans to improve the commercial speech and close more Demos, better structure prospecting calls using and scaling good practices or accelerating the training and performance of new SDR's.
Do you want to see a Demo for more detail? Click here.
In short, thanks to Upbe we can, among other things, improve the performance of the SDRs, understand what the best practices of commercials are or try to understand what the objections to our product are.
Call analysis will help you improve the performance of your B2B sales team thanks to more effective, faster and contextualized decision-making. Some companies have already managed to increase their closing of demos by 50%. Request a demo and discover how Upbe Sales Intelligence can become your best source of customer information.