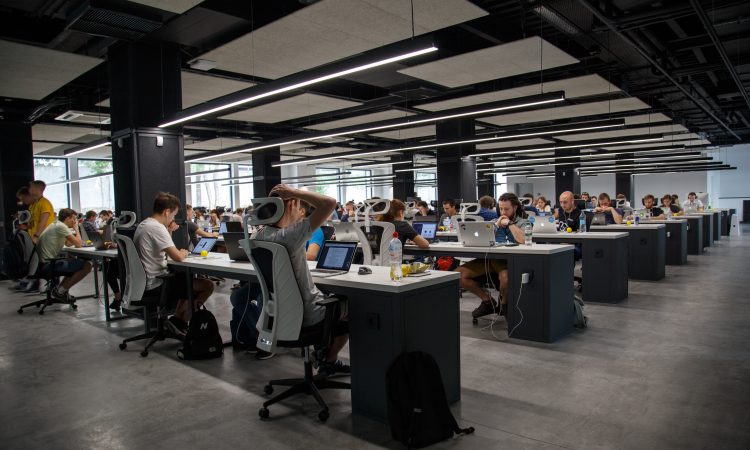 Global companies rely on their call centers to provide support for customer inquiries and complaints, as well as to conduct telephone sales. However, in today's digital transformation landscape, call centers have evolved in response to technological advancements and changing consumer behavior.
This article offers a guide on Call Centers. We explore their main functions, how they are organized, and the types of tools used within them.
What is a Call Center?
A Call Center is a department that handles incoming and outgoing calls from current and potential customers. These can be part of an organization or outsourced to a company specializing in handling calls. Agents in a call center provide customer support, take orders, and resolve issues.
Call centers aim to deliver excellent customer experiences, which means representatives need to have knowledge, patience, and communication skills to effectively interact with customers. Call Centers are essential for driving revenue, generating leads, answering customer questions, resolving issues, and creating satisfying customer experiences.
How does a Call Center work?
The process in a Call Center begins when a customer makes a call and is directed to an Interactive Voice Response (IVR) system that connects them with the appropriate agent or department. Once the customer service representative identifies the customer and understands their issue, they work on its resolution and log the interaction in a CRM platform. If the issue cannot be resolved in the first call, the agent must follow up to gather more information, and if resolved, a customer satisfaction survey is conducted to collect feedback and assess the quality of the customer service team.
Call center teams include a variety of roles, from agents who speak directly with customers to team leaders who supervise and assist them, managers who oversee operations, quality control teams that ensure call quality is adequate, and IT staff who maintain the technology and tools up to date.
Types of Call Centers
Call centers can focus on different goals and functions, and therefore, there are various types of Call Centers that address diverse customer and business needs. The choice of the type of call center will depend on the specific needs and expectations of each company.
Inbound Call Center
Inbound call centers focus on answering calls from existing customers and resolving their issues. They use tools such as automatic call distribution, skill-based routing, and interactive voice response to help agents solve problems quickly and efficiently.
Outbound Call Center
Outbound call centers specialize in taking the initiative and contacting customers. They use tools such as outbound IVR, call tagging, and customer relationship management (CRM) software to initiate calls quickly, track information, and distribute it within their organization for future use. Use cases for outbound call centers include telemarketing, phone surveys, lead generation, market research, and customer onboarding.
Combined Call Center
A combined call center is one that handles both inbound and outbound calls. It offers a wide range of services including sales, support, and customer service. These centers have all the tools and technologies we have mentioned before. In general, any company that can afford a combined call center and needs to make sales and provide efficient support to its customers uses this type of Call Center.
Virtual Call Center
Virtual call centers are a more cost-effective and efficient solution for companies that need an inbound, outbound, or combined call center. Thanks to technology, call centers can be composed of geographically dispersed agents working in smaller groups in different offices or even from their own homes.
On the other hand, virtual call centers store all operations in the cloud, making them more cost-effective and offering flexibility for employees to work remotely, allowing the organization to onboard new employees and expand at low costs.
Automated Call Center
Automated call centers are characterized by the use of automation tools to simplify tasks for agents and customers, including pre-recorded messages and self-help menus. These call centers are ideal for those who want to save time and resources, allowing agents to focus on tasks that require human interaction and leaving the rest to bots.
Multichannel and Omnichannel Contact Centers
Multichannel and omnichannel contact centers share the ability to communicate with customers through multiple channels, such as phone, SMS, email, and social media. However, the key difference is that omnichannel contact centers unify all channels in one place, allowing for easy tracking of customer conversations. The latter use cloud software and can store customer information to improve communication with representatives. Although omnichannel contact centers are superior to multichannel ones, transforming a multichannel center into an omnichannel one is costly and requires time and effort.
In-house and Outsourced Call Centers
An in-house call center implies that the organization owns and manages its own Call Center and hires its own agents, while outsourced involves hiring a third party to handle calls on their behalf. The choice depends on how much control and resources the organization is willing to invest. An in-house call center is more expensive and requires more labor, but it provides more control over operations. An outsourced call center is less expensive and requires less work, but it provides less oversight and control over the work performed.
Offshore Call Center
Offshore call centers are a type of outsourced call center located in countries with lower costs, making them attractive to small businesses on a tight budget. However, they often present language and knowledge barriers that can reduce customer satisfaction.
What tools are used in a Call Center?
Although we will discuss in depth the technology that is helping to improve the operation of call centers today, it is worth mentioning that any Call Center requires a series of tools, both hardware and software, to achieve greater efficiency in the performance of its agents.
In terms of hardware, phones, computers, headsets, and PBX switches are needed to enable flexibility and multitasking during calls. As for software, automatic call distribution (ACD), interactive voice response (IVR), CRM, dialers, and call recording are crucial tools for agent efficiency and for them to have access to important information to provide good customer service.
Lastly, it is worth mentioning the explosion of the use of technology based on artificial intelligence, machine learning, and deep learning, giving rise to conversational AI tools, which are allowing call centers to raise their potential to the highest level.