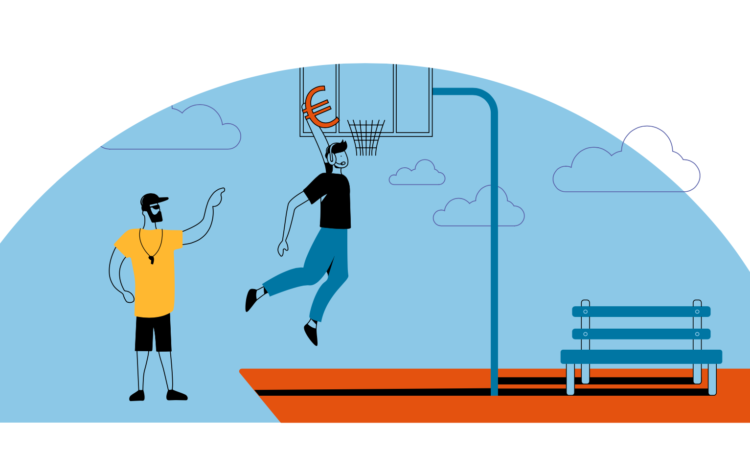 Nowadays, people are more than tired of receiving message after message aimed at selling them products and services from this or that. And this fatigue makes consumers increasingly demanding when it comes to evaluating what they will and will not accept.
This translates into one of the great challenges of the call center industry. The path towards closing sales is becoming increasingly difficult to traverse. Hence, the search for strategies to increase sales becomes, at the very least, a priority.
To begin with, it is necessary to have a deep understanding of what is happening and absolute control of the entire operation. To continue, once this point is overcome, it's time to look for ideas or working methods that help generate more sales.
This is related to many factors. But in the contact center, they will likely be related to the agile and effective verification of sales and any strategy, tool, or knowledge that allows agents to sell more, and sell better.
Data-based strategies to increase sales
Obviously, all that work of searching for strategies to increase sales must be based on data. More specifically, on large data samples that offer a complete and reliable view, with a process that is as automated as possible.
Because analyzing daily calls is what will give you clues to know what aspects of your management need to improve, what new processes you could implement, and which strategies are already producing good conversion results.
And it is precisely here where you can encounter the main obstacle: such analysis is done, in the vast majority of cases, through manual listening. We say it's an obstacle because it raises three problems:
The average number of calls that are analyzed by manual listening represents a very small percentage, and the sampling does not have much statistical value.
The analysis is costly, as the team leader must invest many hours in carrying out these listens manually (considering that a sales call usually does not last less than ten minutes).
We are facing an analysis that will always be subjective and, therefore, it is possible that it overlooks certain data that are relevant but may not seem so to team and sales leaders.
Three unsolvable problems? Not at all!
Technology based on artificial intelligence is the solution to carry out these analyzes automatically, massively and scalably.
What does this mean for your call center? We'll explain it in this guide, where we'll show you how conversational artificial intelligence opens a straightforward and direct path leading to a real and sustained increase in sales.
We're also going to provide you with four highly effective techniques to help you increase your call center's revenue, all of them supported by conversational AI.
Increasing call center sales with conversational AI
You've probably heard a lot about artificial intelligence, and you may think it's only accessible and useful for leading tech companies like Facebook or Google.
However, AI in general and conversational AI in particular can be the tool that takes your contact center management to a level of excellent efficiency and, of course, contributes to the optimization of sales.
But let's start at the beginning, as these topics are complex.
What is conversational AI?
It essentially consists of two elements:
NLP (Natural Language Processing): machines process human language and transcribe it from audio to text.
NLU (Natural Language Understanding): once the language is processed, they delve into its comprehension by identifying its meaning. This is especially useful in conversations where jargon is used, for example.
These two elements, NLP and NLU, allow software that uses conversational AI like Upbe to be able not only to transcribe, but also to interpret conversations.
And on top of that, they analyze and interpret in depth, understanding the intentions and feelings of the customer on the other end of the phone.
Yes, it still sounds incredible today to talk about interpreting emotions with a machine. But it is possible. The question is, how does this benefit the management of the call center?
It gives you the opportunity to analyze the entire call database. As you read it: 100%. The information contained in the calls to customers gives you valuable clues about how they perceive and how they relate to your company, information that is gold for implementing effective telephone sales techniques.
It provides you with the data from the analysis almost immediately when in conditions of manual listening it can take 72 hours or even more.
It helps you anticipate customer behaviors by predicting if they have a high likelihood of unsubscribing from the service, for example.
It puts you on the path to detect undesirable practices; those that do not lead to the closure of the sale or provoke complaints from customers, scenarios that nobody wants.
It enables you to easily identify the actions that are leading to a good conversion rate.
It improves the customer experience in calls, and it's well known that a satisfied customer has a good perception of the company.
Team leaders are freed from the tedious task of manual call analysis and can devote themselves to much more profitable actions such as improving their team's skills, designing more efficient processes, and outlining the best sales strategies.
It helps team leaders to do much more commercial, efficient, and valuable work. In other words, they become empowered and actively participate in improving the quality of sales and the customer experience.
Indeed, natural language processing marks a before and after in call analysis because it leaves behind mere transcription, as understood in a Speech Analytics tool.
This means that it is capable of understanding meanings, intentions, and emotions—not only in words but also in silences—helping the agent to make the right decisions to increase the length of a call, achieve a successful sale, prevent a drop-off, or recover a lost transaction.
And this translates into two words that sound very good: more revenue.
In conclusion, thanks to conversational AI, telephone communication is analyzed in its full breadth.
4 strategies to increase sales in the call center
Based on all the advantages of conversational AI we've seen, let's go with four customer service techniques that will help you implement strategies to increase sales in a call center.
#1 Improve agent training and productivity
As we said at the beginning, customers are increasingly demanding when receiving sales messages due to the bombardment of information they are subjected to from all sides.
And this fatigue makes them not hesitate to hang up the phone or give a resounding "no" as an answer, especially if what they are hearing on the other side does not seem attractive to them.
Achieving that attraction effect necessarily involves focusing on helping call center agents through actions such as discovering productivity improvements, refining the sales script, providing context to training, and promoting the spirit of self-evaluation.
Thanks to the support of conversational AI, you will be able to execute these actions easily and with the certainty that they will help you achieve results.
Discover productivity improvements
Here it's about detecting who is not reaching their maximum productive potential to indicate what aspects they need to improve. For this, you have a secret weapon: the complete and deep analysis of all the calls made, from which you can extract the practices that work and those that do not.
For example, you can analyze adherence to the sales speech, either for the entire team or for a particular agent. Which agents are following the guideline set in the sales script? Do they present and introduce the commercial offer in an appropriate way?
Refine the sales script
By knowing the team's performance and predicting customer behaviors, you can develop a more effective sales script. This gives agents a lot of confidence when making decisions that lead to closing sales.
In this way, you are also offering them the necessary flexibility so that they can react quickly to the unforeseen events that inevitably occur in a sales call.
Provide context to training
The training of call center agents gains 100% context thanks to conversational AI. By analyzing statistically significant samples, the training is very contextual and specific because auditors understand patterns.
For example, data analysis often reveals that there are agents who perform worse for very technical queries, which is evident in higher average operation times.
In these cases, team leaders can decide to include these agents in regular training on those technical aspects where they have knowledge gaps.
Encourage self-evaluation of agents
Leading towards self-evaluation is one of the most underrated strategies to increase sales in a call center. We're talking about training as a tool to facilitate the work of responsible people within high-performance teams, following the philosophy of treating adults like adults.
And how is this achieved? By providing means for agents to determine the performance of their work and implement improvements proactively and independently; a motivational plus that improves their productivity and makes them feel they can scale up in their work day by day.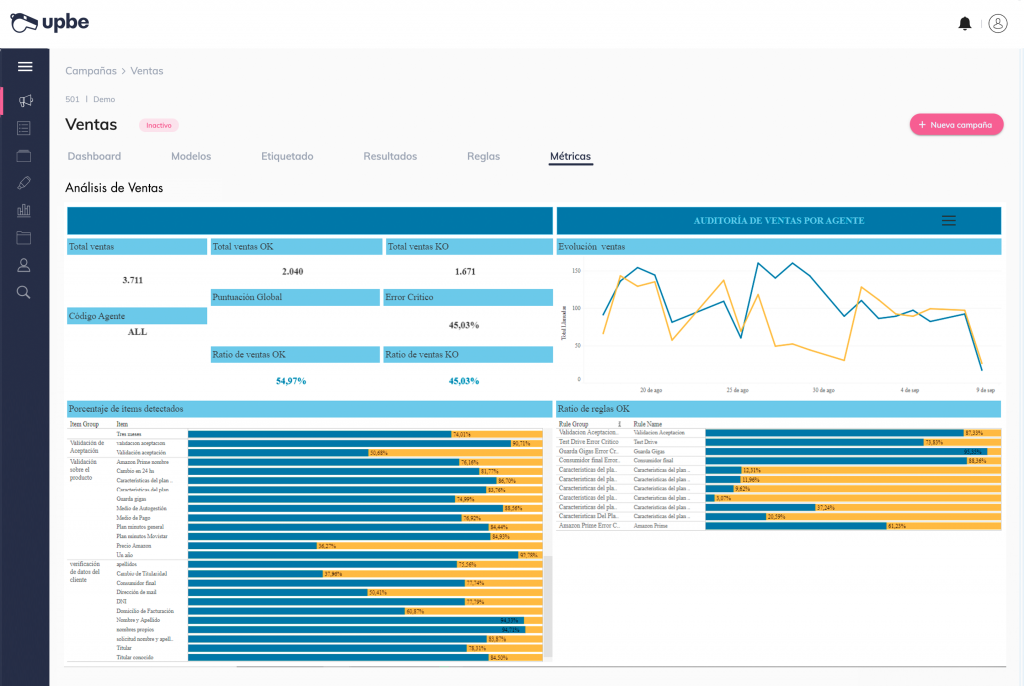 #2 Achieving Higher Quality Calls
One of the greatest wishes of those who manage a call center is that calls end with a great sense of satisfaction for the customer. They should perceive them as a positive experience where they are understood, respected, and their needs are met.
Hence the importance of key quality indicators for the call center, such as CSAT (Customer Satisfaction), CES (Customer Effort Score), NPS (Net Promoter Score), or CRR (Customer Retention Rate).
Why? Very simple: because a happy customer is a customer who buys convinced, who doesn't back down and who recommends your products or services. It is of little use to sell quickly and poorly if that is later going to result in problems with the verification of the sale.
Let's now look at some techniques to improve the quality of your calls day by day:
Study the data from all previous calls to identify which conversation patterns are not satisfying. Which ones are causing negative reactions? Unsuccessful sales, hung-up calls, unresponsive customer service attitudes…
As you know, quality is not only related to the words that are said, but to the context and how they are said. That's why it's equally important to analyze parameters related to audio signals and human voice. This way you can know if an agent's speech is being too aggressive or if it gives little confidence and consequently establish guidelines to eliminate these bad practices.
With this double analysis of words and the context that surrounds them, you can adjust and refine the sales script to make it satisfactory for the customer and effectively guide the agent to close the sale.
Words, tone of voice, silences, modulations… Relying on conversational AI, you will have access to an exhaustive, automatic, and objective analysis of all conversation parameters. This way, it will be much easier for you to measure the level of customer satisfaction.
#3 Close More Sales
Does it sound obvious? Maybe. But the ultimate goal of every call center is successful sales closure, and that's why all the strategies that are implemented pursue this purpose.
So the question is: what techniques assisted by conversational AI can help you close more sales in your call center?
One that is very important and often not recognized: learning from what happens in conversations with customers. It is the most direct method to identify the communication patterns that lead to closing a sale and those that do not.
Another fundamental one: better understanding who your buyer persona or target audience is and what the potential customer's needs are.
Knowing which objections are effective and which ones do not work as well, to prevent agents from getting tangled up in arguments that lead nowhere.
Being aware of the emotions that come into play in conversations with the customer, to develop a complete and effective sales call protocol that covers not only what to say but also how to say it.
Predicting customer behaviors and being able to make a quick turn that redirects the conversation towards closing the sale, to reduce the number of unsuccessful calls.
Positioning the quality auditor as a true analyst of conversational data instead of a mere manual monitoring monitor, so they have time to strategically supervise campaigns and ensure their success.
As you can see, conversational AI does not offer you merely peripheral help, but acts at the very heart of revenue generation: the closing of successful transactions.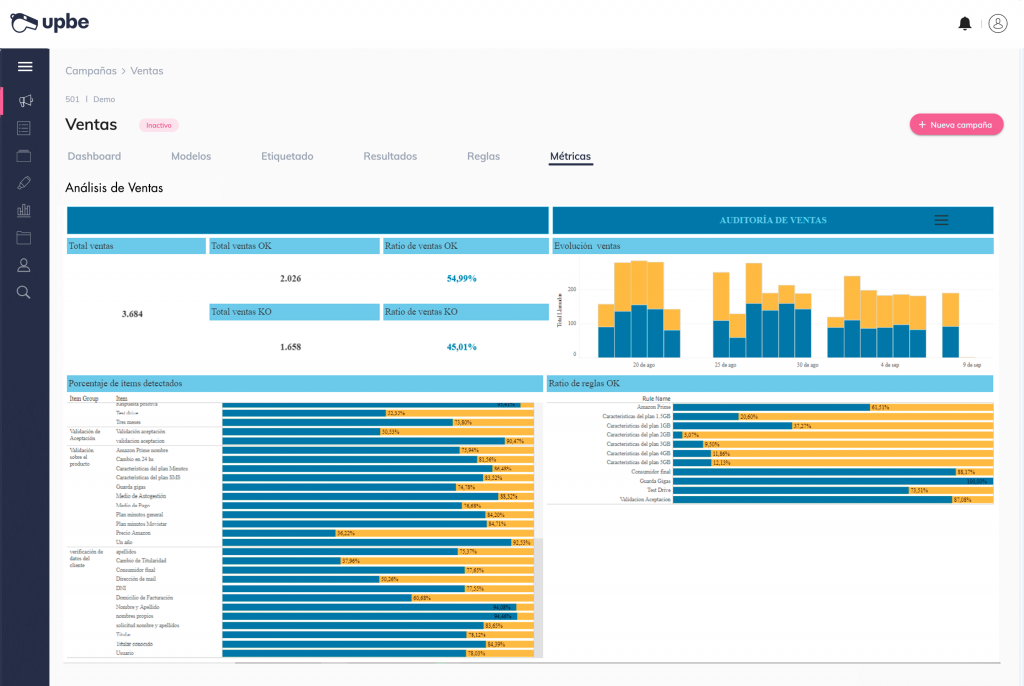 #4 Automatic Sales Verification
Selling according to quality standards is as important as selling more. In fact, one enables the other. Because it is of little use for an agent to improve their sales ratios if we cannot ensure that those sales have been made correctly.
We are talking about reviewing the legal and contractual conditions of the products or services sold. And this is where telephone sales verification comes into play, a task that is done with manual listening and that requires several days of work.
What usually happens? Well, in that time frame, the sale cools down and you lose room to verify and close. That is, time and resources wasted.
But you can avoid this scenario using conversational AI. Here's how a tool like Upbe helps you with sales verification:
Thanks to this technology, some companies have seen their error rates reduced from 35% to 15% when verifying sales.
By using conversational AI, you will go from taking several days to perform the verification to doing it almost immediately, being able to take recovery actions agilely.
Agents and auditors will have more time to close satisfactory deals, a task much more rewarding and efficient than listening to hours of phone conversations.
By automatically verifying 100% of sales calls, you will measure whether the already implemented quality standards are really being met, and you can even create new improvement processes.
Conversational AI: The Super Tool to Increase Call Center Sales
If you've made it this far, you'll have seen how technology based on conversational AI opens up a world of possibilities in helping your company move to the next level of billing day after day.
All the techniques we've talked about are proven, and we're proud to have several successful case studies to back it up.
Throughout this article, you have seen how a complete, detailed, and automated analysis of 100% of calls will allow you to:
Provide agents with ongoing and often self-applicable support and training to improve their productivity and, why not, their involvement and motivation in the company.
Promote quality auditors to the next level, freeing them from the role of mere call monitors and turning them into key pieces of the commercial strategy.
Detect good and bad practices throughout the sales process, from the first contact with the customer to the recovery of an apparently lost transaction.
Have more time to devote to valuable tasks such as implementing new productive processes, strategic supervision of commercial campaigns, developing better sales strategies, etc. In summary: rewarding actions (much more than spending hours listening) that lead you to generate more income.
If you are already using the "traditional" techniques to increase sales in the call center, fantastic! Having agents with empathy or patience to deal with the most demanding customers is a must.
Conversational AI comes precisely to support and accompany these lifelong techniques, but offering very valuable data that with manual listening would be lost or biased.
The use of conversational AI squeezes all the potential of conversations with customers as a source of continuous improvement and increase in sales for your company. And it does so in an automated and scalable way, saving costs and generating more revenue.
In addition, through the complete and deep information offered by conversational AI, you will positively impact your customers, improving their perception of your company and their relationship with it.
And this is going to translate into an increase in your sales. Would you like to check the advantages of conversational AI for your company? We would be delighted to show them to you! Don't hesitate to request a demo.