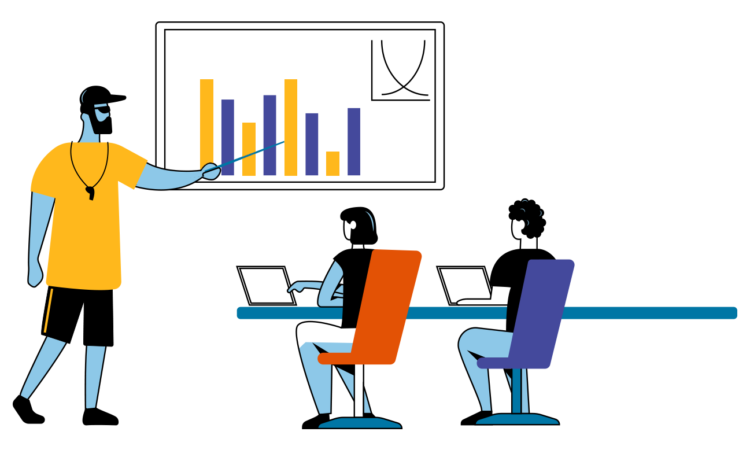 Of all the metrics that you can measure in your contact center, FCR is one of the most valuable. Because it not only indicates how efficient you are, but also directly relates to the satisfaction of your customers.
According to a Forrester study, almost 70% of people feel that the best thing a company can do for them is to have adequate customer service and be efficient in resolving incidents or doubts.
If this does not happen, or if the customer experience has been negative, more than half of your customers will not return.
After all, who likes to waste their time?
Resolving calls on the first attempt is the most direct path to having good customer satisfaction. That is why more and more companies are adopting telephone customer service strategies focused on improving that interaction on the first call.
This is where First Contact Resolution, or FCR, comes into play.
In this article, we will tell you everything you need to know about FCR: from what it is and how to measure it, to how to optimize it in your call center.
What is FCR in a call center?
FCR is a key customer service metric that is used to measure call center efficiency. Its acronym stands for First Contact Resolution or First Call Resolution.
FCR measures the rate of cases or incidents resolved on the first call.
Improving First Contact Resolution means reducing interactions between the company and the customer, eliminating frictions, and increasing customer satisfaction.
But optimizing this KPI, like with AHT, also has a huge impact on cost reduction (whether it's the call center's own costs or those associated with the call center that provides you service).
In fact, studies have shown that 66% of all contact center costs are attributed to callbacks. That is, calls to resolve problems not solved on the first contact or first call.
Now, to be more specific, there are different ways to define FCR.
For example, it is different to measure the total number of calls resolved on the first attempt among the total number of calls in a period of time, than to measure FCR in relation to the total number of first calls.
The important thing is that the definition fits the context in which you want to measure it. This will depend on your industry, market, or size. On the other hand, there are the criteria you choose to measure FCR, which should also be tailored to the call center's needs.
Your ability to understand the data you can extract, analyze, and understand will be what helps you profile your own definition of FCR and properly measure the first call resolution rate.
Criteria for measuring FCR
As we mentioned before, there are many variables at play. And considering the impact of FCR on costs and call center efficiency, it's worth taking a closer look.
For example, think about the simple word "resolution": what does it mean in the context of your call center? What does it imply for a call to be resolved correctly?
Consider how you interpret this and other basic questions, decide, standardize the analysis, and adjust to its measurement exhaustively and periodically.
Here are some key questions that will help you define First Call Resolution properly in your organization:
What criteria must a call meet to be considered resolved correctly? Should there be some kind of affirmative confirmation on the call? Is it that the customer doesn't call back? Is it that they re-hire the service or buy the product again?
How do you determine if a customer is satisfied? Do they have to explicitly say so or does it depend on some other factor?
Is a transferred or escalated call that is then resolved considered a call resolved on the first call or on two calls?
Is a management that requires a callback, and the customer is aware of it, considered a call resolved in a single contact?
Does not having clear call entry channels affect your FCR? What happens if they call you through another channel or department and you have to redirect that call?
How do abandoned calls affect your FCR?
Make sure to clarify these issues, specifying both the definition and the measurement criteria.
And if you realize that they are not helping you draw relevant conclusions, or if there are data that biases the analysis, change the criteria. But it's important to be consistent and consistent.
Starting to measure FCR
Okay, you have your criteria clear and you start measuring. But what goals do you set for yourself?
In other words, what FCR should you meet?
At this point in the process, it's common to turn to benchmarks, to look for FCR references in the market. And here, the data varies by industry. But as a general framework, a Freshdesk study talks about FCRs between 70% and 85% depending on the sector.
However, the most logical recommendation is that if you are not measuring FCR or have doubts about how you are doing it, focus on your own data. Set up a methodology, adjust to it, and track its evolution.
You don't know how others are measuring their FCR, so comparing yourself doesn't make sense.
How to improve FCR in a call center
You have your definition. The criteria is clear. You have started measuring it and your analysis concludes an FCR percentage that is likely to be improvable.
Now is the time to consider how you can optimize the first call resolution rate.
Improvements in FCR can be divided into 3 different blocks of work, but all take into account the traditional method used to improve FCR metrics: Speech Analytics.
As you know, it is a technology that generates call transcriptions and analyzes them with the aim of identifying possible trends, behavior patterns, and the most common problems of customers. And all of this directly affects your FCR.
3 tips to optimize your First Call Resolution
FCR tip #1: Identify process improvements
Establish checkpoints and process reviews. Analyze from manual processes to those that depend 100% on technology.
Here, through Speech Analytics, you may find common problems in calls, analyze the issue, and identify bottlenecks in your organization.
FCR tip #2: Understand why your customers are calling
Speech Analytics allows you to create categories and subcategories to act on. You can segment these categories and their most common problems and take steps to improve the training and performance of your agents.
Giving the sales team the right information and summarizing it in the pitch is one of the best practices to improve the FCR of a contact center.
Here, coordination with other departments will be crucial. For example, based on the knowledge generated, the marketing team can create some type of content, or perhaps the sales team decides to redefine or improve the commercial offer.
FCR tip #3: Identify why calls are being repeated
With Speech Analytics, you can also tag concepts that help you identify who is calling back and why. However, this technology has evolved towards Conversational Intelligence, which marks a turning point in FCR optimization.
If you are now trying to improve FCR with Speech Analytics alone, what's happening to you? You are missing the context of the calls, or what's the same: there are many learnings and measures to improve FCR that you are not able to apply.
In addition, FCR optimization with Speech Analytics involves intensive manual work and a high effort in human capital.
On the one hand, you will be dedicating too much time to prior configurations. You will have to tag many concepts to then be able to categorize. And even so, you will be missing a fundamental part of the information to improve FCR: context or sentiment analysis.
And on the other hand, all that manual work will not serve you to be more efficient, because standard Speech Analytics tools cannot learn continuously.
So, as you can see, the field for improvement is immense.
Improving your FCR with Upbe
It's simple: Upbe helps you apply conversational intelligence to your call center to improve your First Call Resolution, mainly in 2 ways:
It allows you to learn automatically and get rid of all that manual call analysis work (it's more efficient)
It helps you understand the context of your customers, giving meaning to what they say, how they say it, and why they say it (it's more effective)
Remember that the factor most correlated with FCR is customer satisfaction. And that means being able to understand the reasons that create that positive experience is essential for your call center.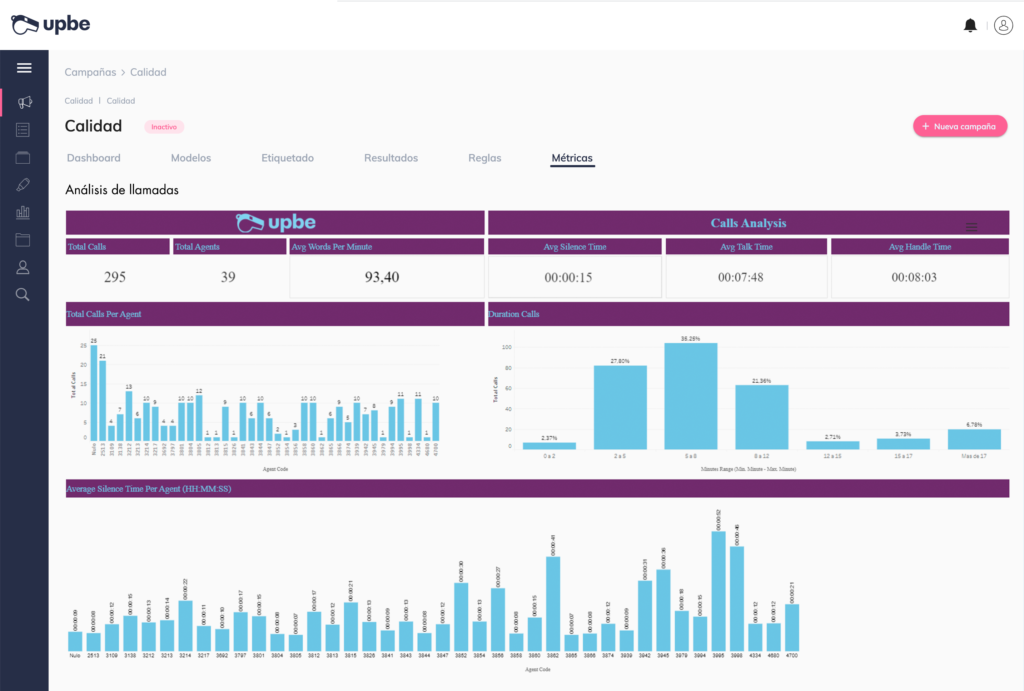 With conversational intelligence, you discover the learnings and skills your agents need to develop, identifying improvement points and best practices automatically.
You can think of Upbe as an automated training tool that generates key information to better satisfy your customers.
The key to learning is that the information comes from the context of the calls, not just the literal tags provided by Speech Analytics. In other words, we give you the necessary tools to learn from interactions and make improvements.
4 key questions for FCR that you can answer with Upbe
What call types improve FCR? What pitch should my agents develop depending on those call types?
How does the sentiment shown by the agents impact FCR? What level of sentiment and empathy does each call type require?
What conversational patterns reduce callbacks?
What best practices can I implement to improve FCR?
Upbe's conversational analysis technology can automatically discover what aspects generate greater customer satisfaction, such as:
The projection of emotions of the agent and the customer
The silence in the conversation
The speed at which conversations take place
The expressions used
The duration of the responses to customer questions.
Being able to understand how each of these factors impacts the customer experience, in addition to understanding the context of conversations, allows you to define a strategy to improve FCR and customer satisfaction.
And remember that there are studies that say that for every 1% improvement in FCR, customer satisfaction improves by 1%. So, are you sure you don't want to try improving your processes with Conversational Intelligence?
If you are not yet measuring FCR or believe that you can optimize it, request a demo and we will explain how we can help you and your agents improve it. Your customers' experience depends on it.